EDCAR Tour Meetings - Click Here
Camino / Pollock Pines Tour Meetings - Click Here
EDCAR tour Meetings
CURRENT SCHEDULE
December 6th & 20th
‍‍El Dorado / Diamond Springs 12702, Pleasant Valley / Placerville South 12703, Somerset / Mt. Aukum/South County 12704, American River Canyon 12803

December 13th & 27th
‍Rescue / Luneman 12604, Greater Placerville 12701, Coloma / Lotus 12705, Greenstone / Gold Hill / Placerville West 12706, Mosquito/Swansboro 12707, Georgetown / GardenValley / Greenwd / Kelsey 12901, Cool / Pilot Hill 12902, North County 12903

Every Thursday - EDCAR Cameron Park Tour - Greater Cameron Park 12601, El Dorado Hills 12602, Shingle Springs 12603, Rescue/Luneman 12604, Latrobe/Shingle Springs South 12605, Coloma/Lotus 12705, Greenstone/Gold Hill/Placerville West 12706

Every Thursday - EDCAR Pollock Pines TourCamino/Cedar Grove 12801, Pollock Pines 12802
TOUR LOCATIONS and downloads
Email sierra@edcar.org for the tour sheet
Email sierra@edcar.org for the tour sheet
How to download tour sheets
Step 1: Go to Prospector and select "Caravans/Tours" from the drop down menu
‍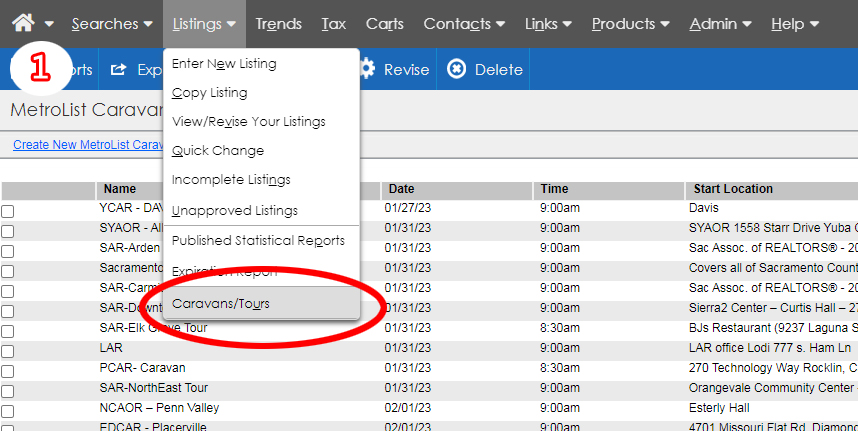 Step 2: Select MetroList from the top of the list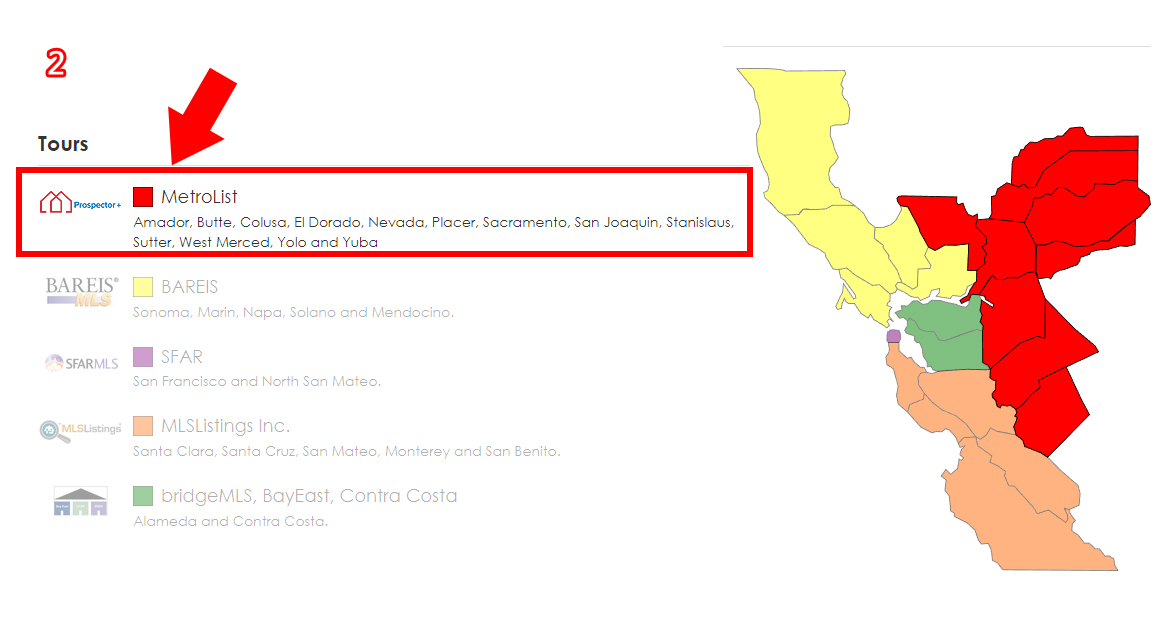 Step 3: Find the corresponding EDCAR Tour from the list and which date you are interested in, and select "Reports" to view the properties. Tour sheets will also be available at tour.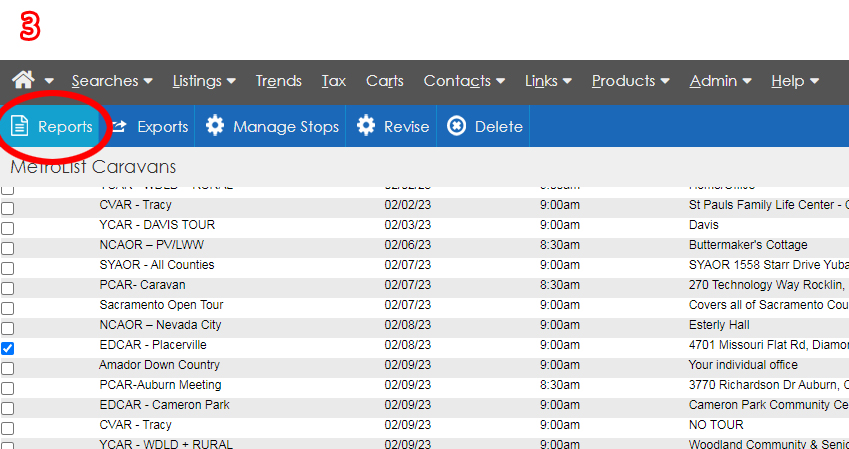 TOUR GUIDELINES
See instructions on how to add your listing below.(New or recent listings only please, deadline to submit a featured home is Tuesday morning at 9AM)
‍
The meeting will be held at 9:00AM
‍
Add your new listing for marketing and exposure:
‍
Log in to MetroList
‍
Go to Revise your Listing
‍
Under Listing Information click *MetroList - Caravan Dates* (In order for staff to see your listing added to tour you must select Caravan Dates, and not the "Broker Tour" option. In order for the Caravan Dates option to be available, your listing must be active prior to Tuesday at 9AM)
‍
In the Caravan Dates Drop Down menu, click - "EDCAR - Tour" for the corresponding date. (Or EDCAR - Pollock Pines for Area Zones 12801 & 12802)
‍
Call with questions 530.676.0161 or email dwoodard@edcar.org
Your listing must be added to the caravan dates section in on MetroList 9:00 a.m. on Tuesday, the week of the Tour. The deadline is extended only if there is a Monday holiday, the time is then extended to 10:00 a.m. on Tuesday. If you have a listing that is going live by Thursday morning, but is not active prior to the Tuesday deadline to add to tour, you may contact the Association at 530.676.0161 (or email dwoodard@edcar.org), and we can add the featured property manually (You must still let us know Tuesday by 9:00AM to allow our staff enough time to add the featured property manually). However, the listing MUST be active in MetroList by the scheduled tour date listed, and it will be featured online prior to the tour meeting as "Featured Home TBA –This listing will be featured on tour, and will be active and marketed [Insert Date Here]"
Add-ons are currently allowed based on market conditions.
Toursheets will be available at the EDCAR office late Tuesday morning, and at the weekly tour meetings. You can also download a PDF of the featured homes on www.edcar.org/tour.html
We are currently hosting three meetings. See schedule above.
Re-tours are limited to the following: Major modification to the home such as new flooring. If a home is to be re-toured, that information should be stated in the comments on the tour sheet. Price reductions will be featured on a separate sheet and announced. If you are re-touring a property due to a price-reduction(5% minimum reduction), please notify the Association at 530-676-0161 prior to the Tuesday cut-off time, rather than submitting through Prospector.
In order to afford people more time to attend open houses, the homes on tour must be open from 9:45 a.m. (or a reasonable time after the meeting concludes) and remain open until 12:30 p.m. Either the agent, an assistant, the owner, or a lock box will be available in order for agents to view the home.
An "Open House" sign must be in front of the property. Agents should not enter a house if the "Open House" sign is missing (this does not apply to the Pollock Pines).
Tour is established for residential family homes. New construction should be ready to move into. Driveway should be in.
Only REALTORS® are to pitch homes. Affiliates are not to pitch homes or say "it's a go" for a REALTOR®. If you cannot be present at the tour meeting, you should ask another REALTOR® to make comments about the property. If no one is present at the tour meeting, the home will be scratched.
Card Appraisals (asking other REALTORS® what they think about the price or mailing a tour response card asking about price) are not allowed in El Dorado County.

Some REALTORS® serve refreshments or provide a drawing for those who have toured their open houses. If you have a drawing, you need to attend the very next tour meeting in order to award the drawing. Any card included in the group of cards to be drawn from, is eligible to win the drawing. If you are unable to attend the meeting, you must give the prize and the cards to an associate or the tour director and ask them to hold the drawing.
RESPA regulations prohibit some Affiliates from providing refreshments at tour meetings. If you are unsure about certain regulations please contact the Association.
Please make sure that you place your listing in the correct zone and that remarks are appropriate.
If you have a special announcement related to the real estate industry, please arrive at the tour meetings 10 minutes prior to the beginning and advise the tour director of your announcement. They will make the determination if the announcement is appropriate.
A schedule of tour dates, list of tour locations and names and phone numbers of tour directors are available at the Association office and can be emailed by request.
Please note: these REALTOR®/Affiliate Tour Meetings are sponsored by EDCAR and are open to EDCAR REALTORS® and REALTOR® members of other Associations and to EDCAR Affiliates only. A member may bring a guest who is not a member to one meeting. Guests may be introduced but are asked to refrain from speaking at the meeting.
Camino / Pollock Pines Caravan Meetings
If you would like to participate in the Camino / Pollock Pines Caravan meeting, please see the rules below. You may also contact Janet Gaut @ gaut@imhappyathome.com OR 530-306-0075 for more information.
‍
Rules:​ BEFORE ​9AM ​(10AM if Monday was a Holiday) ​on any given Tuesday,​ enter your 12801 or 12802 listing on the Pollock Pines Caravan through Prospector MLS. ​    As long as we have at least 3 homes to view, your listing will be on the Thursday tour of that week.  Come to the Century 21 Select office at 6584 Ridgeway Drive in Pollock Pines for a VERY BRIEF meeting that is structured like the other MLS meetings.  The meeting time is 9am sharp, and only lasts about 5 minutes, so it's very important to be on time.  We all caravan and stay together.  You do not need open house signs up. You must show up to the meeting or send an Agent to ​caravan with us all and open your home for the group.

In your listing select the Caravan Dates Option, then find EDCAR - Pollock Pines - for the desired date to add your listing to the Camino / Pollock Pines Tour.
‍